MADHYA PRADESH
Lawsuit management policy 2018 approved by cabinet
The Cabinet meeting held under the Chairmanship of the Chief Minister Shivraj Singh Chouhan has given approval to the Madhya Pradesh State Lawsuit Management Policy-2018.
Under the policy, State level and department level empowered committee besides district level monitoring committee will be constituted for effective management, supervision and handling of lawsuits. Grievances redressal system will be established to redress complaints of government officers/employees in each department at district and state level. Redressal of such complaints will be ensured within 8 weeks, under the system so that government officers/employees should avoid going to the court for redressal of their complaints related to service rules.
In order to make available a competent and professional legal officer in departments, a regular cadre will be developed under the control and supervision of the law department. By making the appeal process simple, right to appeal has been given to the concerned collector/ district authority in the cases related to government lands and properties, in which an order or decision has been passed against the government. Necessity of separate permission of the law department for review has been abolished.
Strengthening the alternate dispute redressal mechanism, provision has been made in the policy for maximum use of mediums like arbitral and arbitration to solve the disputes. A competent and effective procedure will be set up to withdraw cases by identifying minor cases and the cases which have become unproductive, so that number of pending cases could be reduced.
Besides, provisions have made for immediate and proper action against the persons, who found guilty of negligence in constant supervision of the reasons of delay in the court cases and for not presenting the stand of the government cases in effective manner.
In addition to the above, several provisions are being made for effective management of court cases and to make administrative arrangements more accountable at state/department/district level. Directives will be prepared to clearly state the work and responsibilities and to strengthen the working procedure of government law officers, advocates, prosecutors and in-charge officers of the cases.
INTERNATIONAL
Indo-Kyrgyzstan joint training exercise KHANJAR-V concludes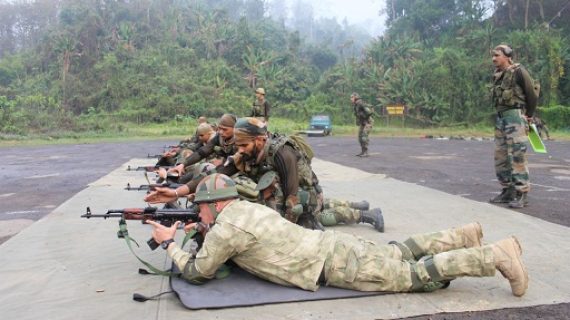 The fifth Indo-Kyrgyzstan Joint Training Exercise KHANJAR-V culminated on 29 March, after a joint tactical validation exercise and a closing ceremony held at Counter Insurgency Jungle Warfare School.
Two week of joint training that commenced on 16 March included understanding tactics of platoon level, developing inter operability and sharing of best practices.
·       Commonwealth Games 2018 Starts At Gold Coast In Australia
The 21st edition of the Commonwealth Gameswill begin in Gold Coast, Australia, with a colorful opening ceremony.
This will be a momentous day for the city as the biggest event in its history begins.
Carrara Stadium has been chosen as the venue to host the opening ceremony.
These Games will mark the 5th time that Australia has hosted the games. India will be represented at the opening ceremony by a contingent of over 200 athletes who will be led by flag-bearer P V Sindhu.
·       India Ranks 37th in Global Startup Ecosystem: Startupblink Report
According to report released by global startup ecosystem map Startup link,India was ranked 37th out of 125 countries in global startup ecosystem in 2017.
Startup link is a global startup ecosystem map with tens of thousands of registered startups, coworking spaces, and accelerators.
The list, measuring startup ecosystem strength and activity, was topped by the United States followed by the United Kingdom.
NATIONAL
·       Suresh Prabhu Launches Digital Initiative for Ease Of Export
Union Commerce and Industry and Civil Aviation Minister, Suresh Prabhu launched digital initiatives by Export Inspection Council (EIC) for ease of export at New Delhi.
EIC is the official export certification body of Government of India and has launched this flagship project of Digital India Initiative to keep pace with changing dynamics of the world.
In order to continue the vision for credible inspection and certification, three portals have been developed to reduce transaction time and cost in a transparent manner.
The portals will play an important role in the Go Green initiative by reducing paper usage and saving millions of trees.
·       Biometric failure is not related to age – UIDAI
The Unique Identification Authority of India (UIDAI) claimed there is no "conclusive evidence" to say that biometric authentication success is dependent upon age. "Slightly higher authentication failure rates have been observed only for fingerprints for senior citizens above the age of 70.
Authentication failures do not mean exclusion or denial of subsidies, benefits or services since the requesting entities are obliged under the law to provide for exception-handling mechani- sms.
The authority said that out of 108,50,391 iris scans, 9,27,132 unique UIDs failed, that is, 8.54% of the total. Out of 6163,63,346 fingerprint scans, 369,62,619 failed. That is, 6% of the total.
·       UIDAI unveils Virtual ID in beta form; service providers to use new feature soon
The Unique Identification Authority of India (UIDAI) has unveiled the beta version of the much-awaited 'Virtual ID', and promised that service providers will "soon" start accepting the same in lieu of Aadhaar number.
In the beta form, users can generate their Virtual ID (VID) and use it to update address in Aadhaar online for the time being, according to UIDAI, which announced the VID concept earlier this year to address privacy concerns.
Put simply, the new feature will allow Aadhaar holders to quote their VID number without actually disclosing the 12-digit Aadhaar number for authentication or verification purposes.
The VID, which is a random 16-digit number mapped to a person's Aadhaar number, together with biometrics of the user would give any authorised agency like a mobile company, limited details such as name, address and photograph, which are enough for any verification. The VID effectively gives the users the option of not sharing Aadhaar number at the time of authentication.
The UIDAI had stated that it will be compulsory for all agencies that undertake authentication to accept the VID from their users from June 1, 2018.
·       Supreme Court stands by its SC/ST Act judgment
With a view to prevent the misuse of provisions of Scheduled Castes and the Scheduled Tribes (Prevention of Atrocities) Act 1989 (SC/ST Act), the Supreme Court  held that there is no absolute bar for granting anticipatory bail in a matter under the Act.
The Supreme Court  said its March 20 judgment, banning immediate arrest of a person accused of insulting or injuring a Scheduled Caste/Scheduled Tribe member, is meant to protect innocents from arbitrary arrest and not an affront to Dalit rights.
The Apex Court also added that a public servant can be arrested after grant of approval by some senior officer.
The bench comprising of Justices Adarsh Kumar Goel and Uday Umesh Lalit further noted that to avoid false implication of an innocent, preliminary enquiry will be done by the DSP to find out whether the allegations make out a case under the Atrocities Act and that the allegations are not frivolous.
The top court further observed that the Government official cannot be prosecuted on mere allegation of committing an offence under the Act without the sanction of appointing authority.
MPPCS  Notes brings Prelims and Mains programs for MPPCS  Prelims and MPPCS  Mains Exam preparation. Various Programs initiated by MPPCS  Notes are as follows:-
For any doubt, Just leave us a Chat or 
Fill us a querry
––