MADHYA PRADESH
CM doubles honorarium for anganwadi workers
Chief Minister Shivraj Singh Chouhan on Sunday doubled the monthly honorarium of Anganwadi workers and assistants to Rs 10,000 and Rs 5,000 respectively.
The Chief Minister urged the anganwadi workers and sahayikas to ensure best management of the anganwadis and work hard to free Madhya Pradesh of malnutrition. Chouhan was addressing the orientation workshop organised for anganwadi workers and sahayikas who came in large numbers to attend this  from all over the State.
Chouhan called upon the anganwadi workers and sahayikas to extend support in facing the challenge of removing malnutrition from Madhya Pradesh. He assured that no anganwadi worker or sahayika will be removed without investigation. If an anganwadi sahayika applies for anganwadi worker's post, she will be given preference. Chouhan also announced the Deendayal Poshan Award. A sum of Rs  one lakh will be given to anganwadi workers and Rs  75,000 will be given to anganwadi sahayika post retirement. In case of their sudden death, their families will be provided a financial assistance of Rs  2 lakh. Besides, their daughter or sister will be given preference of 10 marks during selection as worker/sahayika.
Chouhan said that anganwadi workers and sahayikas will be given three awards for each project for best performance. The anganwadi worker will be given first prize of Rs  7,100, second prize of Rs  5,100 and third prize of Rs  2,100. Similarly for sahayikas the first prize will be of Rs 5,100, second of Rs 2,100 and third of Rs 1,100.
Chouhan said that women labourers working in the unorganized sector will be given Rs 4,000 during pregnancy and Rs 12,000 post -delivery. The anganwadi workers will be responsible to get these women registered and get the amount deposited in their accounts.
INTERNATIONAL
·        UAE And Malaysia Conclude Joint Military Exercise 'Desert Tiger 5'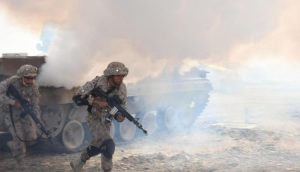 The United Arab Emirates (UAE)and Malaysia concluded joint military exercise "Desert Tiger 5" aimed at sharing expertise and enhancing joint military actions in Dubai, UAE.
The military exercise was aimed at raising the level of performance and combat efficiency and working together between both countries based on the strategy to improve the overall ability and combat readiness of ground forces.
NATIONAL
Country's foreign exchange reserves hit a life-time high of $ 424.361 bn
The country's foreign exchange reserves hit a life-time high of 424.361 billion US dollar after rising by 1.828 billion dollar in the week to March 30, the Reserve Bank said in Mumbai.
Gk bit – Foreign exchange reserve
The Foreign exchange reserves of India consists of below four categories;[11]
Foreign Currency Assets
Gold
Special Drawing Rights (SDRs)
Reserve Tranche Position
Special drawing are supplementary foreign-exchange reserve assets defined and maintained by the International Monetary Fund (IMF).
The proportion of the required quota of currency that each International Monetary Fund (IMF) member country must provide to the IMF, but can designate for its own use. The reserve tranche portion of the quota can be accessed by the member nation at any time,whereas the rest of the members quota is typically inaccessible. The primary means of fnancing the International Monetary Fund is through members quotas. "each member of the IMF is assigned aquota, part of which is payable in the specified usablecurrencies (reserve assets), and part in the members own currency. The difference between a members quota and the IMFs holdings of its currency is a countrys Reserve Tranche Position.
Gram Swaraj Abhiyan on Ambedkar Jayanti
The Prime Minister has announced that on the occasion of Ambedkar Jayanti  a "Gram Swaraj Abhiyan" would be organised starting from 14th April to 5th May, 2018.
This Abhiyan is being undertaken for reaching out to poor households, spreading awareness about government welfare schemes and other people centric initiatives.
As a special initiative during the Gram Swaraj Abhiyan, universal coverage under seven welfare programmes including Pradhan Mantri Ujjwala Yojana (PMUY) in 21058 identified villages with large number of underprivileged households across the country has been contemplated.
Highest importance is given to saturate these villages with the benefits of seven welfare programmes.
Gobardhan Yojna' to be launched from Karnal on Apr 30
Gobardhan Yojna, a central government scheme for managing and converting cattle dung and solid waste into manure and biogas, will be launched nationally from Haryana's Karnal on April 30.
Gobar is an acronym for Galvanising Organic Bio Agro Resources.
Through the scheme, the government aims to ensure cleanliness in villages and generate energy by converting cattle dung and solid agricultural waste into compost and biogas.
The central and state governments would provide funds in the ratio of 60:40.
RBI to set up Data Sciences Lab
Reserve Bank of India (RBI) in its release said that it has decided to set up Data Sciences Lab to improve its forecasting, surveillance and early warning detection abilities which will aid policy formulation.
The lab will constitute of experts and budding analysts, internal as well as lateral, who are trained inter alia in Computer Science, Data Analytics, Statistics, Economics, Econometrics and/or Finance.
Indian Railway catering services attract a uniform 5% GST in trains and stations
Availing sustainable resources to its passengers by easing the use of provision allotted to its commuters, the Central Government notified that a uniform rate of 5% will be charged towards Goods and Services Tax in all railway catering services in train or stations.
The Central Board of Excise and Customs (CBEC), the decision has been taken with a view to remove any doubt or uncertainty in the matter and bring uniformity in the rate of GST applicable to supply of food and drinks made available in trains, platforms or stations.
Therefore, with the approval of the competent authority, it was decided that GST on the supply of food and drinks by the Indian Railways, Indian Railways Catering and Tourism Corporation Limited (IRCTC) or their licensees, whether in trains or at platforms (static units), will be 5% sans input tax credit.
Earlier in March, IRCTC introduced Point of Sale (POS) hand-held machines in trains, after many passengers filed complaints of train vendors overcharging passengers.
·        Leander Paes Becomes Most Successful Player In Davis Cup
Indian tennis' ageless wonderLeander Paes became the most successful doubles player in the history of Davis Cup as he combined with Rohan Bopanna to not only grab a record 43rd win but also bring the country back in the tie against China.
Forced to play together by AITA, 44-year-old Paes and Bopanna downed a fighting Chinese pair of Mo Xin Gong and Ze Zhang 5-7 7-6(5) 7-6(3) in the do-or-die doubles rubber of the Asia/Oceania Group-I tie.
·        Around 1.2 million Terrorist accounts suspended by Twitter since Aug 2015
According to the 12th biannual Twitter transparency report, it removed 1.2 million accounts for promoting terrorism since August 2015.
Reportedly, 74% Twitter accounts were banned before making their first tweet.
274,460 accounts were permanently suspended for promoting anti-social or terror activities between July 1 to December 31, 2017, bringing its total from August 1, 2015, through year-end 2017 to 1,210,357.
The social network said the figure for the second half of 2017 was down 8.4 percent from the first half of last year, marking the second consecutive reporting period to see a decline.
Twitter added that 93 percent of the accounts suspended during the second half of last year were flagged by internal, proprietary tools and 74 percent were suspended before sending a single tweet.
According to the Twitter Public Policy team, government reports of violations related to the promotion of terrorism accounted for less than 0.2 percent of account suspensions during the last six months of 2017, about one-half the percentage in the previous reporting period.
·        Pradhan Mantri Ujjwala Yojana Launched In New Delhi
Union Minister Dharmendra Pradhan launched Pradhan Mantri Ujjwala Yojana (PMUY) schemein Delhi and distributed new LPG connections and cylinders to beneficiaries.
During the event, about 400 LPG connections were handed over to families belonging to below poverty line category.
Target under this scheme has been increased from the existing 5 crore connections to 8 crore connections by 2020.
MPPCS  Notes brings Prelims and Mains programs for MPPCS  Prelims and MPPCS  Mains Exam preparation. Various Programs initiated by MPPCS  Notes are as follows:-
For any doubt, Just leave us a Chat or 
Fill us a querry
––