Agro-climatic zones of Madhya Pradesh
There are 11 agro-climatic zones in Madhya Pradesh.
Malwa Plateau: Indore, Dhar, (Dhar, Badnawar, Sardarpur tehsils) Shajapur, Mandsour, Nimuch, Ratlam, Ujjain, Dewas Rajgarh districts and Petlawad tehsil of Jhabua district.
Vindhyan Plateau: Bhopal, Vidisha, Sehore (Sehore, Ashta, Ichhawar, Narsullaganj tehsils) Raisen (Raisen, Gairatganj, Begamganj, Silwani, Goharganj, Udaipura tehsils), Damoh, Guna (Chachora & Raghogarh tehsils) & Sagar districts.
3.Central Narmada Valley : Hoshangabad (Seoni-Malwa, Hoshangabad, Sohagpur tehsils), Harda, Nasinghpur districts, Budhani and Barelli tehsil of Sehore and Raisen districts respectively.
4.Satpura Plateau:  Betul, Chhindwara districts.
5.Jhabua Hills: Jhabua, Jobat, Alirajpur tehsils of Jhabua district & kukshi tehsil of Dhar district.
6.Gird Region: Gwalior, Bhind, Morena, Shivpur-Kalan, Guna (Mungawali and Ashoknagar tehsils), Shivpuri (Shivpuri, Kalaras, Pohari tehsils).
7.Kymore Plateau: Jabalpur, Katni, Rewa, Panna, Satana, Sidhi, Seoni and Gopadbanas & Deosar tehsils of Sidhi district.
8.Bundel Khand Region: Tikamgarh, Chhatarpur, Datia districts, Karela, Pachore tehsil of Shivpuri and Guna tehsil of Guna district.
9.Nimar Valley: Khandwa, Khargone, Barwani district, Manawar tehsil of Dhar district and Harda district.
10.Northern Hills of Chhattisgarh: Shahdol, Umariya Mandla, Dindori district & Singrauli tehsil of Sidhi district.
11.Chhattisgarh plain: Balaghat district.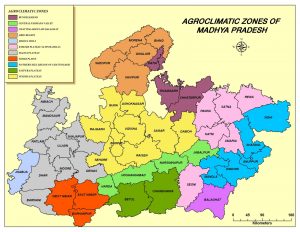 Each zone has its unique set of natural resources and constraints. The eastern part of the State is characterized by its rice based cropping systems, light alfisols which have low water holding capacity and are prone to erosion mainly water erosion because of higher and often high intensity rainfall. Rainfall in this part of the state is about 1500 mm mainly received during south-west monsoon season. The central and western parts of the state follow soybean based cropping system whereas pulses and oilseeds occupy an important place in the region. Important soil types in different zones of the states are mixed red and black (Kymore plateau), medium and deep black (Vindhya plateau), deep black with clay (Central Narmada Valley), Alluvial, Medium black soil, Mixed red and Black soil and red and yellow soil (Grid sub zone), clay and clay loams and sandy loam soils (Bundelkhand), light reddish brown to black clay loam (Satpura), Alluvial, Recent alluvium and Calcareous (Food Prone Eastern Plain Zone).
Northern low lying plains comprising Gwalior, Bhind and Morena districts and extend to Bundelkhand up to the west of Panna range and excludes certain parts of Rewa district between Panna and Kaymore hills of Baghelkhand.
The Malwa and Vindhyan Plateau comprises of Vidisha, Shivpuri, Datia, Guna, Ujjain and Mandsour districts and parts of Sehore, Raisen and Dewas districts. It consists of large undulating plains of black cotton soil dotted with flat-topped hills. It has also hilly Vindhyan Plateau situated it the north of Narmada Valley and to the south of the low-lying regions of Bundelkhand and Baghelkhand. It separated from east of Malwa plateau to Maikal and Dorea hills of Satpura range.
The Narmada Valley stretching from Jabalpur in the east up to Barwani district in the west. It is nearly 560 Km long and 48 Km wide and is walled on the north by the Vindhyan range and on the south by Satpura range. It covers the districts of Jabalpur, Nasinghpur, Hoshangabad, Khandwa, Khargone, Barwani, Dhar, and some parts of Raisen, Sehore, and Dewas districts.
MPPCS  Notes brings Prelims and Mains programs for MPPCS  Prelims and MPPCS  Mains Exam preparation. Various Programs initiated by MPPCS  Notes are as follows:-
For any doubt, Just leave us a Chat or 
Fill us a querry
––