MADHYA PRADESH
Aided by swarozgar yojana, beficiaries set up msmes
Beneficiaries are being helped through Mukhya Mantri Swarozgar Yojana to set up new MSME units in the State. Financial assistance of Rs  647.58 crore has been made available to 18,722 beneficiaries in this fiscal year.
Minister of State (Independent Charge) Micro, Small and Medium Enterprises
Sanjay-Satyendra Pathak told that this year target of Rs   1487.57 crore has been set to be distributed to 30 thousand beneficiaries under the yojana this fiscal year. An amount of Rs 110.30 crore has been approved in 26 thousand 441 cases so far. In the remaining 7,729 cases the approved loan amount will be made available to the beneficiaries soon.
The benefits of Mukhya Mantri Swarozgar Yojana are provided only for setting up a new enterprise. A loan of Rs  50,000 to Rs  10 lakh is provided under the scheme. The beneficiary's age should be between 18 years and 45 years and should have passed Class V. There is no income limit for the beneficiary. The applicant's family should not be an Income tax payee with an enterprise/business establishment.
Margin money for the project cost of 15 per cent maximum Rs  one lakh is given for general category and 30 percent maximum Rs  2 lakh to the BPL/Scheduled Caste/Scheduled Tribe/Other Backward Class (except creamy layer) women/minority/handicapped beneficiary.
The members of Bhopal gas affected families are eligible for additional 20 per cent or maximum Rs   one lakh margin money. Additional margin money of 30 per cent or maximum Rs  3 lakh of the project is given to the beneficiaries of Denotified Nomadic and Semi-nomadic Tribes.
INTERNATIONAL
·        SpaceX Launches Its Most Powerful Rocket Towards Mars
The US-based SpaceXsuccessfully launched the world's most powerful operational rocket Falcon Heavy towards Mars.
The rocket, carrying a Tesla Roadster car, will revolve around the Sun in a way that will repeatedly bring it close to the Earth and Mars.
The Falcon Heavy's thrust and capacity are the highest since NASA's Saturn V, which carried astronauts to the Moon.
Falcon Heavy successfully lifted off from Launch Complex 39A at Kennedy Space Center in Florida.
India-UAE to ink 12 pacts during PM Modi's visit
As many as 12 agreements will be signed during Prime Minister Narendra Modi's visit to the UAE later this week as India and the oil-rich Gulf nation look to intensify economic cooperation.
The agreements will include areas like finance and skills development.
Modi will start his visit to three West Asian countries – Palestine, the UAE and Oman – on February 9 with focus on cooperation in key areas of defence, security and counter- terrorism.
The Prime Minister will participate in the 6th World Government Summit in Dubai on February 10-11 in which India is a partner country.
This will be PM Modi's second visit to the UAE. He first visited the country in August 2015.
·        Google launches #SecurityCheckKiya campaign
Search engine giant Google launched '#SecurityCheckKiya' campaign in India to create awareness around Internet safety. It was launched on the ocean.
The campaign aims to protect first-time web users from account hijacking, safeguard Android devices from malicious apps and secure all their personal time.
Under the campaign, Google recommended three simple steps for Internet safety. It includes reviewing security settings and Google account activity.
Moreover 'Google Play Protect' service scans and checks Android devices for any harmful apps. Find My Device app from Google helps a user to easily long away.
NATIONAL
60 Solar Cities to be developed across country
The Ministry of New and Renewable Energy under its scheme "Development of Solar Cities" has approved/sanctioned 60 Cities including 13 Pilot and 5 Model Cities up to 12th Five-year Plan period.
In a written reply to a question in the Rajya Sabha, Minister of State (IC) for Power & New and Renewable Energy, Shri R K Singh informed that the master plans of 49 Solar Cities have been prepared.
The Stake-holders Committees have been constituted in 21 Cities and Solar City Cells have been created in 37 Solar Cities.
Solar PV projects with aggregate capacity of 8069.16 kWP and Solar Water Heating System with aggregate capacity of 7894 meter square collector area have been sanctioned under the programme.
While Rs. 101.64 crore has been sanctioned, Rs. 25.92 crore has been released under scheme "Development of Solar Cities" so far.
·        Assam Government and Ola Sign MoU For River Taxi Service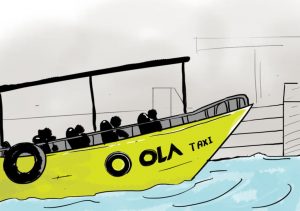 Cab-hailing startup Ola and the Government of Assam have signed a MoU to pilot an app-based river taxi service in Guwahati.
The river taxis will be machine-operated boats and users will be able to book the rides through Ola's app.
It'll bring commute time down to 2-5 minutes from 45 minutes by road. This MoU was signed during the Global Investors Summit: Advantage Assam.
·        Commerce Minister Kicks Off Consultations On The New Industrial Policy
Commerce and Industries Minister Mr. Suresh Prabhu set off a series of nation-wide consultations with the industry on the proposed new Industrial Policy.
The first consultation was held at Guwahati in February 2018.
The event, organized by Department of Industrial Policy and Promotion (DIPP) in partnership with Federation of Chamber of Commerce and Industry (FICCI), was attended by more than 120 industrialists from the North East in addition to government officials from the North Eastern States.
·        President Ram Nath Kovind Inaugurates Mahamastakabhisheka Utsav
The President of India Ram Nath Kovind inaugurated the 88th Mahamastakabhisheka Utsav of Lord Gomateshwarain Hassan district of Karnataka.
Mahamastakabhisheka of Gommateshwara, who is also known as Bahubali takes place once in 12 years.
It is an important Jain pilgrimage center and lakhs of tourists visit Shravanbelagola to see 57 feet tall monolithic stone statue that is anointed from head to feet during the Utsav.
·        Union Government launches Start-up-India ranking framework
The Department of Industrial Policy and Promotion (DIPP)under Commerce Ministry unveiled Start-up-India ranking framework to rank states/UTs based on measures regions that have taken to foster entrepreneurship.
It was launched by Union Minister of Commerce and Industry at a function held in New Delhi.
The framework aims to foster competitiveness and propel states/UTS to act proactively in startup matters.
This ranking will help states to bring progress made in their startup ecosystem and also make different states learn and replicate good practices.
Its objective is to encourage States/UTs to take proactive steps towards strengthening Startup ecosystems at the local level.
·        Sushma Swaraj Visit To Saudi Arabia Attends Opening Ceremony Of Al-Janadriyah Fest
External Affairs Minister Sushma Swaraj attended the opening ceremony of the 32nd Al Jana-driyah festival in Riyadh, Saudi Arabia.
India has been invited as the Guest of Honour country for the festival.
Swaraj in her first engagement addressed Indian community members at a reception in Riyadh and spoke about the relations between the two countries.
During her three day visit, she will meet with the Saudi leadership to discuss bilateral, regional and global issues of mutual interest.
MPPCS  Notes brings Prelims and Mains programs for MPPCS  Prelims and MPPCS  Mains Exam preparation. Various Programs initiated by MPPCS  Notes are as follows:-
For any doubt, Just leave us a Chat or 
Fill us a querry
––