MADHYA PRADESH
Mp's school edu dept bags center's e- governance gold
The education portal of Madhya Pradesh's School Education Department has been given the Centre's National e-Governance Gold award. The education portal has been given the award in the Innovation in Existing Project of Government Department category. The information of the award was given by the Centre's Department of Personnel to Rajya Shiksha Kendra Director Lokesh Jatav.
The Gold award will be given at the 21st National e-Governance Seminar in Telangana capital Hyderabad on February 26 and 27. The education portal has been prepared to review the monitoring and results of the implementation of the academic and administrative works by the School Education Department.
The MP education portal had been started with the help of National Information Centre (NIC) by School Education Department in year 2008 to provide better work execution and online services for school education related departments, offices, schools, teachers and parents. Keeping the changing times and needs in mind, new technique has been used in the portal and it has been made even more useful. The education portal is carrying out the integrated e-governance system work very well. Information of over 1.50 crore children of over 90 thousand settlements of the state and 1.50 lakh government and private schools is available online.
Through the portal, effective management of salaries, service-books and services of more than 3.90 lakh teachers etc of the State is being undertaken.
The entire database of proven information of personal academic and bank accounts of students of over 1.50 crore schools of the state is being collected through the portal. Students are being provided over 35 scholarships and stipends and funds of more than Rs 500 crore under various incentive schemes of 9 departments online with one click in the most transparent manner. More than 13 lakh GEO tag photos have been taken of the available infrastructure of 1.25 lakh schools through the GIS at School app for the first time in the country. This has ensured availability of school resources in all settlements.
Recognition of private schools is also being provided online in the most transparent and simplified manner under Right to Education law. Online admissions on 25 per cent seats reserved for children of financially weak and deprived classes is also being made available in these schools. Through the education portal, aptitude tests have been undertaken of nearly 1.50 lakh students and their teachers have been graded school-wise.
INTERNATIONAL
List of MoUs/Agreements signed during visit of Prime Minister to Palestine
MOU between India and Palestine for setting up of India-Palestine Super-specialty hospital at Beit Sahour in Bethelhem Governorate at a cost ofUS$ 30 million.
MOU between India and Palestine for construction of India Palestine Centre for Empowring women, "Turathi" at a cost ofUS$ 5 million
MOU between India and Palestine for setting up of new National Printing Press at Ramallah at a cost ofUS$ 5 million
MOU between India and Palestine Construction of school in Muthalth Al Shuhada Village at a cost ofUS$ 1 million
MOU between India and Palestine Construction of school in Tamoon village in Tubas Governorate in Palestine at a cost ofUS$ 1.1 million
MOU between India and Palestine Assistance of US$ US$ 0.25 million for construction of additional floor to Jawahar Lal Nehru for Boys at Abu Dees.
PM Modi inaugurates Abu Dhabi's first Hindu temple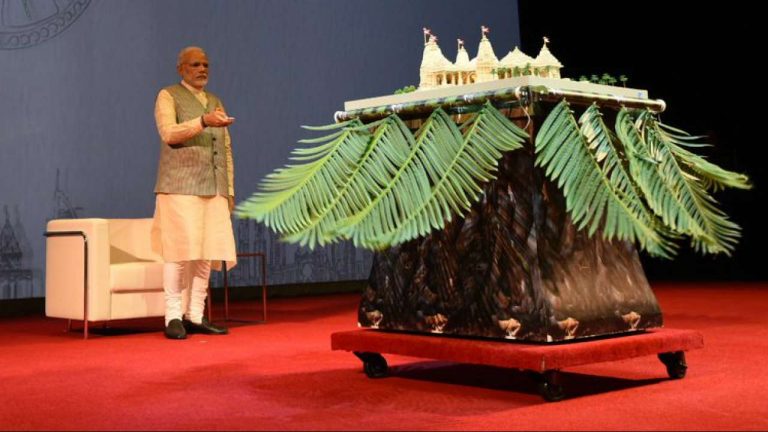 Prime Minister Narendra Modi has laid the foundation stone for a new temple for the Hindu community living in the United Arab Emirates (UAE).
The temple will be the first to be built in Abu Dhabi, the capital of UAE which is home to a huge Indian diaspora.
The PM laid the foundation stone for the temple from the Dubai Opera House via video conferencing.
This is Modi's second visit to the UAE after August 2015.
The UAE has two Hindu temples which are located in Dubai.
Modi conferred 'Grand Collar of the State of Palestine'
Prime Minister Narendra Modi was conferred the 'Grand Collar of the State of Palestine' by President Mahmoud Abbas.
President Abbas conferred the honour on Mr. Modi after the conclusion of the bilateral meeting between the two leaders.
Modi is the first Indian Prime Minister to make an official visit to Palestine.
·        Thailand most traffic congested country and Los Angeles most congested city of 2017
According to a global traffic scorecard published annually by Inrix, a company that aggregates and analyzes traffic data collected from vehicles and highway infrastructure, the top 10 most congested cities in the world, 2017 are:

Los Angeles

2. New York City (tie)

2. Moscow (tie)

4. Sao Paulo, Brazil

5. San Francisco
·        China to reopen Nathu La pass for Mansarovar yatris in India
China has agreed to reopen the Nathu Lapass for Indian pilgrims to undertake the Kailash Mansarovar Yatra, Minister of State for External Affairs VK Singh informed the Lok Sabha.
China had closed the route last year citing "unfavourable conditions", at a time when India and China were engaged in a military standoff at Doklam.
The four-month travel period to the Kailash Mansarovar yatra starts from June.
·        Saudi Arabia temporarily bans poultry imports from India over bird flu
Saudi Arabiahas temporarily banned imports of live birds, hatching eggs and chicks from India after a form of bird flu that is highly lethal for poultry was found in the south Asian country.
In January, India had reported an outbreak of a highly contagious bird flu virus near Bengaluru in the southern state of Karnataka.
·        ONGC acquires 10 per cent stake in UAEs Zakum oilfield
Oil and Natural Gas Corporation (ONGC)-led consortium of Indian state oil firms have acquired 10% stake in Abu Dhabi's offshore Lower Zakum Concession.
The acquisition is part of deal inked between company executives and UAE officials in presence of visiting Prime Minister Narendra Modi and Abu Dhabi.
The Lower Zakum Oil Field is located 84 km north-west of Abu Dhabi Islands. It was discovered in 1963 and is owned and developed by Abu Dhabi National Oil Company.
The total proven reserves of it are around 17.2 billion barrels and production is centered on 425,000 barrels per day (67,600 m3/d)
NATIONAL
IPPB to enable Digital Payments in Post Offices by April 2018
India Post Payments Bank (IPPB) Expansion Programme continues to make brisk progress and a nation-wide roll-out is scheduled beginning April 2018.
Once the proposed expansion is completed, IPPB will be providing the largest financial inclusion network in the country, covering both urban as well as rural hinterland with ability to provide digital payment services at the doorstep with the help of Postmen and Gramin Dak Sewaks (GDS).
IPPB will also enable more than 17 crore active account-holders of Post Office Savings Bank to make interoperable digital payments including the benefit of NEFT, RTGS, UPI and bill payment services.
Additionally, the IPPB will enable acceptance of digital payments across post offices in the country in line with the digital payments initiative of the government.
Government releases Rs 9,940 crore to states for Smart Cities Mission
The Centre has released nearly Rs 9,940 crore to the states so far for the Smart Cities Mission, with Maharashtra accounting for the highest amount of Rs 1,378 crore, followed by Madhya Pradesh getting Rs 984 crore.
The Housing and Urban Affairs Ministry has announced 99 cities for central assistance under the BJP government's flagship programme.
The total proposed investment in these cities was Rs 2.03 lakh crore.
Rajnath Singh inaugurates first spoken Sanskrit centre
Union Home Minister Rajnath Singh launched the Centre for learning Sanskrit language in Gujarat University in Ahmedabad.
The centre will offer a six-month course for people on how to speak the language.
The coordinator of the course, Atul Unagar, said it was possibly the first such course launched in India.
MPPCS  Notes brings Prelims and Mains programs for MPPCS  Prelims and MPPCS  Mains Exam preparation. Various Programs initiated by MPPCS  Notes are as follows:-
For any doubt, Just leave us a Chat or 
Fill us a querry
––