MADHYA PRADESH
Many schemes to help farmers increase yield introduced: tomar
The Madhya Pradesh Government has been implementing a number of schemes to help the farmers in increasing their productivity. This was stated by Narendra Singh Tomar, the Union Minister of Rural Development, Panchayat Raj and Mines during the Kissan Sammelan held at the Export Facilitation Centre of the Gwalior Fair.
Addressing a huge gathering of farmers from various parts of the district, the Union Minister said that the government of Shivraj Singh has been initiating various farmer oriented steps, like reducing cost of cultivation and assisting the farmers to realize remunerative prices for their yields. He added that the government is also implementing several centrally sponsored schemes to make sure that the interests of the farmers are protected at all costs.
Government of Madhya Pradesh said that Rs 16 crore has been deposited in the accounts of 6800 farmers of the district. He added that this step is under the Mukyamantri Krishak Samrudhi Yojana of the government of Madhya Pradesh.
INTERNATIONAL
·        World Heritage Day is observed on 18 April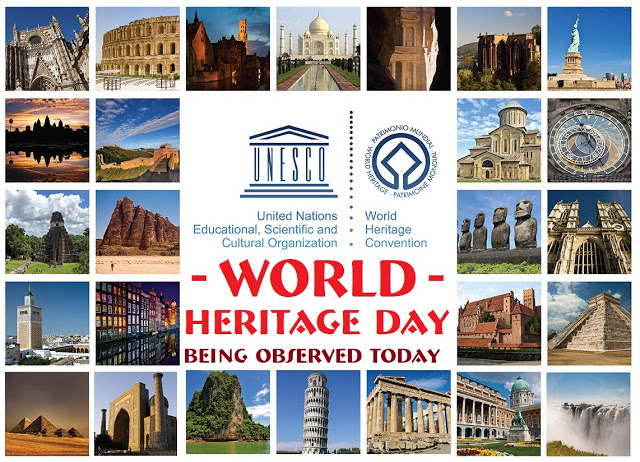 Every year, 18th April is celebrated Worldwide asWorld Heritage Day to create awareness about Heritage among communities.
This year the theme is 'Heritage for Generations'.
The theme emphasizes on the inter-generational transfer of knowledge.
In India, World heritage day will be celebrated at National Rail Museum, New Delhi.
There are total 36 world heritage sites in India, as designated by UNESCO.
·        Google to provide 'confidential mode' soon on its mailing service
Tech giant Google is set to launch a new security layer for its mailing service Gmail that will help users to purge a mail or text after a period of time.
The 'confidential mode' will enable users to set a passcode to open emails, which will be generated through text message. In addition, one can set an expiration date for sent emails.
The new Gmail mode will available after its revamp.
A company spokesperson said that Google will offer Gmail users the ability to try the redesign through an early access program in the coming weeks.
·        UK Joins International Solar Alliance to Mark Narendra Modi Visit
The United Kingdom joined the India-led International Solar Alliance (ISA)ahead of Prime Minister Narendra Modi's four-day visit to Britain.
At an event held at the London Stock Exchange as part of the Commonwealth Heads of Government Meeting 2018 (CHOGM), Britain formally announced its membership of the alliance.
This alliance aims to raise $1 trillion of private and public finance to provide affordable and sustainable energy for all by 2030.
NATIONAL
Sushma Swaraj and Shri Prakash Javadekar to launch 'Study in India' portal of HRD Ministry
In another ground-breaking initiative, the 'Study in India' portal (www.studyinindia.gov.in) of HRD Ministry will be launched at the India Habitat Centre on 18th April 2018 by the Minister of External Affairs, Smt. Sushma Swaraj in the presence of Minister of Human Resource Development, Shri Prakash Javadekar.
The portal will enable students from 30 countries across South Asia, Africa, CIS and Middle East to select and apply for different courses from 150 select Indian institutions which are high on NAAC and NIRF ranking.
The Study in India is aimed at making India a preferred destination for the foreign students to pursue their education.
First Meeting of National Council under POSHAN Abhiyaan
First meeting of National Council on India's Nutrition Challenges under POSHAN Abhiyaan to be held on April 18, 2018 at Vigyan Bhawan in New Delhi.
It will see the participation of Shri Rajiv Kumar, Vice Chairman NITI Aayog,  Shri Amitabh Kant, CEO, NITI Aayog apart from representatives of various ministries of the Central and State Governments.
The POSHAN Abhiyaan targets reduction in the level of under-nutrition and other related problems by ensuring convergence of various nutrition related schemes.
Gk bit – Poshan Abhiyan
POSHAN Abhiyaan was launched on 8thMarch 2018 by the Prime Minister in Jhunjhunu.
Launched by Ministry of Women and Child Development.
The Abhiyaan targets to reduce stunting, under-nutrition, anemia (among young children, women and adolescent girls) and reduce low birth weight by 2%, 2%, 3% and 2% per annum respectively.The target of the mission is to bring down stunting among children in the age group 0-6 years from 38.4% to 25% by 2022.
Two important components are – e-ILA and ECCE
Five e-ILA (e-Incremental Learning Approach) courses and two ECCE(Early Childhood Care and Education) software modules are launched.
e-ILA is an online system where programme functionaries will become more effective by learning to plan and execute each task correctly and consistently through methodical and ongoing capacity building.
The purpose of the ECCE module is to guide trainers to train Anganwadi Workers so that they are able to plan and conduct appropriate ECE activities.
·         Union Government launches first tranche of Sovereign gold bonds for FY19
The Union Government (Finance Ministry) in consultation with Reserve Bank of India (RBI)launched the first tranche of sovereign gold bonds (SGBs) for Background Households in India hold a large amount of their savings as physical assets such as gold, silver and other precious metals and real estate.
The Households in India hold a large amount of their savings as physical assets such as gold, silver and other precious metals and real estate.
The minimum subscription for individual and HUF is 1 gram and maximum is 4 kg.
·        DARPAN-PLI app launched by communications ministry
Minister of Communications Manoj Sinhalaunched here the DARPAN (Advancement of Rural Post Office for a New India)-PLI App, which will help in collection of premium for Postal Life Insurance (PLI) and Rural Postal Life Insurance (RPLI) policies at Branch Post Offices anywhere in India, with online up gradation of the policies.
Further, with the launch of this App, indexing of maturity claims in respect of PLI and RPLI policies can be done at Branch Post Office itself, upon which the insurant will immediately be provided with the request number for further references.
·        Bengaluru is the highest paying city for Talent: Report
The garden city of Bengaluru is found to be the highest paying city in the country, with an average annual cost to company (CTC) for talent across all levels and functions standing at about Rs 11 lakh, according to Randstad Insights, the research and analysis division of Randstad India.
Pune stands second at around Rs 10 lakh, followed by Delhi NCR and Mumbai with an average annual CTC figure of a little under Rs 10 lakh and around Rs 9 lakh, respectively.
MPPCS  Notes brings Prelims and Mains programs for MPPCS  Prelims and MPPCS  Mains Exam preparation. Various Programs initiated by MPPCS  Notes are as follows:-
For any doubt, Just leave us a Chat or 
Fill us a querry
––