Famous personalities of Madhya Pradesh
Harishankar Parsai
Harishankar Parsai (August 22, 1924 – August 10, 1995) was a Hindi writer. He was a noted satirist and humorist of modern Hindi literature and is known for his simple and direct style. He wrote vyangya (hindi satire) articles.  He was born in Jamnia village near Itarsi in Hoshangabad district, Madhya Pradesh. He completed his M.A. in Hindi from R.T.M. Nagpur University. After pursuing writing along with his service for some time, he quit his job and took writing as a full-time career. He settled in Jabalpur (M.P) and started a literature magazine called Vasudha. Despite it being highly praised, he had to stop the magazine after the publication suffered economic losses. Parsai died on August 10, 1995 in Jabalpur. According to The Hindu, by the time of his death, Parsai had revolutionised the art of satire writing in Hindi. He won Sahitya Akademi Award in 1982, for his satire, "Viklaang Shraddha Ka Daur" .
Makhanlal Chaturvedi
Pandit Makhanlal Chaturvedi (4 April 1889 – 30 January 1968), also called Pandit ji, was an Indian poet, writer, essayist, playwright and a journalist who is particularly remembered for his participation in India's national struggle for independence and his contribution to Chhayavaad, the Neo-romanticism movement of Hindi literature. He was awarded the first Sahitya Akademi Award in Hindi for his work Him Taringini in 1955. The Government of India awarded him the civilian honour of the Padma Bhushan in 1963.
Lata Mangeshkar
Lata Mangeshkar (born 28 September 1929) is an Indian playback singer and occasional music composer. She is one of the best-known and most respected playback singers in India. Mangeshkar's career started in 1942 and has spanned over seven decades. She has recorded songs for over a thousand Hindi films and has sung songs in over thirty-six regional Indian languages and foreign languages, though primarily in Marathi and Hindi. She is the recipient of three National Film Awards, 12 Bengal Film Journalists' Association Awards, four Filmfare Best Female Playback Awards and many more. The Dadasaheb Phalke Award was bestowed on her in 1989 by the Government of India. She is also the second vocalist, after M. S. Subbulakshmi, to have ever been awarded the Bharat Ratna in 2001, India's highest civilian honour. She has four siblings—Asha Bhosle, Hridaynath Mangeshkar, Usha Mangeshkar and Meena Mangeshkar—of which she is the eldest.
R. Ambedkar
Bhimrao Ramji Ambedkar (14 April 1891 – 6 December 1956), popularly known as Baba Saheb, was an Indian jurist, economist, politician and social reformer who inspired the Dalit Buddhist Movement and campaigned against social discrimination against Untouchables (Dalits), while also supporting the rights of women and labour. He was Independent India's first law minister, the principal architect of the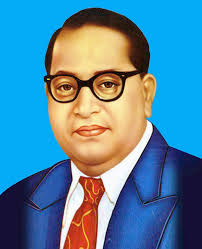 Constitution of India and a founding father of the Republic of India.  Ambedkar was a prolific student, earning doctorates in economics from both Columbia University and the London School of Economics, and gained a reputation as a scholar for his research in law, economics and political science. In his early career he was an economist, professor, and lawyer. His later life was marked by his political activities; he became involved in campaigning and negotiations for India's independence, publishing journals, advocating political rights and social freedom for Dalits, and contributing significantly to the establishment of the state of India. In 1956 he converted to Buddhism, initiating mass conversions of Dalits. In 1990, the Bharat Ratna, India's highest civilian award, was posthumously conferred upon Ambedkar. Ambedkar's legacy includes numerous memorials and depictions in popular culture.
Mansoor Ali Khan Pataudi
Nawab Mansoor Ali Khan, Mansur Ali Khan, or M. A. K. Pataudi , nicknamed Tiger Pataudi, was an Indian cricketer and former captain of the Indian cricket team. He was the titular Nawab of Pataudi from 1952 until 1971, when by the 26th Amendment to the Constitution of India the privy purses of the princes were abolished and official recognition of their titles came to an end. He has been described as "India's greatest cricket captain". He was appointed captain of the Indian team at the age of 21 even though several other players were more experienced.
Chandra Shekhar Azad
Chandra Shekhar Azad (23 July 1906 – 27 February 1931), popularly known as Azad, was an Indian revolutionary who reorganised the Hindustan Republican Association under its new name of Hindustan Socialist Republican Army (HSRA) after the death of its founder, Ram Prasad Bismil, and three other prominent party leaders, Roshan Singh, Rajendra Nath Lahiri and Ashfaqulla Khan.
Tantia Tope
Tantia Tope (1814 – 18 April 1859) was a general in the Indian Rebellion of 1857 and one of its notable leaders. He was born as Ramachandra Panduranga to a Maratha Brahman family and took on the title Tope, meaning commanding officer.  A personal adherent of Nana Sahib of Bithur, he progressed with the Gwalior contingent after the British reoccupied Kanpur and forced General Windham to retreat from the city. Later on, he came to the relief of Rani Lakshmi of Jhansi and with her seized the city of Gwalior. However, he was defeated by General Napier's British Indian troops at Ranod and after a further defeat at Sikar abandoned the campaign. He was executed by the British Government at Shivpuri on 18 April 1859.
Jhalkaribai
Jhalkaribai (22 November 1830 – 1858) was a Koli veerangana , woman soldier who played an important role in the Indian Rebellion of 1857. She served in the women's army of Queen Laxmibai of Jhansi. Born into a Koli family,she eventually rose to a position of a prominent advisor to the queen, Rani of Jhansi herself. At the height of the battle of fort of Jhansi, she disguised herself as the Queen and fought on her behalf, on the front, allowing the Queen to escape safely out of the fort.The legend of Jhalkaribai remains in the popular memory of the people of Bundelkhand over centuries. Her life, especially her heroism fighting the East India Company army to protect the Queen, continues to be praised in various Bundeli folklores. Her bravery along with her identity as a koli has helped to create a sense of pride and cultural unity in shakyas in North India.
Kailash Satyarthi
Kailash Satyarthi (born; 11 January 1954) is an Indian children's rights activist. He is the founder of Bachpan Bachao Andolan (lit. Save Childhood Movement), the Kailash Satyarthi Children's Foundation, Global March Against Child Labour, and GoodWeave International.  Till date, Kailash Satyarthi and his team at the Bachpan Bachao Andolan have liberated more than 86,000[6] children in India from child labour, slavery and trafficking. In 1998, Satyarthi led the Global March against Child Labou, 80,000 km long physical march across 103 countries to put forth a global demand against child labour. The movement became one of the largest social movements ever on behalf of exploited children. The demands of the marchers, which included children and youth, were reflected in the draft of the ILO Convention 182 on the Worst Forms of Child Labour. The following year, the Convention was unanimously adopted at the ILO Conference in Geneva.
Satyarthi was among Fortune magazine's 'World's Greatest Leaders' in 2015 and was also featured in LinkedIn's Power Profiles List in 2017.His work has been recognized through various national and international honours and awards including the Nobel Peace Prize of 2014, which he shared with Malala Yousafzai of Pakistan.
Raghuram Rajan
Raghuram Govind Rajan (born 3 February 1963) is an Indian economist and an interna
tional academic who is the Katherine Dusak Miller Distinguished Service Professor of Finance at the University of Chicago Booth School of Business. He was the 23rd Governor of the Reserve Bank of India between September 2013 and September 2016. Between 2003 and 2006, Rajan was the Chief Economist and Director of Research at the International Monetary Fund. In 2015, during his tenure at the Indian Reserve Bank he also became Vice-Chairman of the Bank for International Settlements.

MPPCS  Notes brings Prelims and Mains programs for MPPCS  Prelims and MPPCS  Mains Exam preparation. Various Programs initiated by MPPCS  Notes are as follows:-
For any doubt, Just leave us a Chat or 
Fill us a querry
––