MADHYA PRADESH
Govt schools in Madhya Pradesh to be named after martyrs
The school education department is going to rename state-run schools after police and Army martyrs. The home ministry has asked the government to include names of martyred CRPF and BSF personnel as well.
Department is preparing a list of names to be given to government schools. Officials said martyrs from all over the country, not just MP, will be honoured. This includes legends of the 1971 India-Pakistan and 1999 Kargil wars. Gwalior, Bhind and Morena districts, in particular, have a strong martial history. Half a dozen security forces personnel from these districts have been killed in Maoist attacks and on the LoC in the last month or so.
INTERNATIONAL
Conference on Water, Environment and Climate Change to begin in Nepal
An international conference on 'Water, Environment and Climate Change: Knowledge Sharing and Partnership' will start in Kathmandu.
The three-day event is being organised by the Department of Water Supply and Sewerage, Govt of Nepal in association with the Society of Public Health Engineers Nepal (Sophen) and Nepal Engineers Association.
The basic objective of the conference is to bring together professionals, academicians, researchers, entrepreneurs, government and non-government institutions to discuss and deliberate on challenges, opportunities and strategies related to water and environmental issues.
World Homoeopathy Day: 10 April
A two-day scientific convention is being organised in New Delhi by Ministry of AYUSH on the occasion of World Homoeopathy Day, on 10-11th April 2018.
The Vice President Shri. M. Venkaiah Naidu will be the chief guest at the function while Minister of State (I/C) for AYIJSH Shri Shripad Yesso Naik will preside.
This day is observed to commemorate the birth anniversary of the founder of Homoeopathy Dr. Christian Friedrich Samuel Hahnemann.
The theme of this convention is "Innovate: Evolve; Progress: Exploring Science since 40 years".
NATIONAL
8th Theatre Olympics Concludes in Mumbai
After a glorious run of 51 days across 17 cities of India, the historic event 8th Theatre Olympics drew to a colourful close in Mumbai.
The 8th Theatre Olympics was inaugurated by Hon'ble Vice President of India, Shri Venkaiah Naidu on 17th February 2018 at the majestic Red Fort in New Delhi. This edition of Theatre Olympics brought together around 25,000 artists under the theme "Flag of Friendship". The event witnessed 450 shows from more than 30 countries performed across 17 cities
The 51-day long 8th Theatre Olympics, the biggest international theatre festival held in India for the first time.
·        FPI Investment Limit In Government Securities Hiked
In a move that could temporarily soften bond yields, the Reserve Bank of India, in consultation with the Government, hiked the foreign portfolio investors (FPI)investment limit in Central government securities (G-Sec) from 5% of outstanding stock now to 5.5% in FY2019and 6% in
The hike comes in the wake of 99.31% of the upper FII investment limit in G-Secs of Rs1,91,300 crore getting utilized.
The FPI investment in State Development Loans (SDLs) has been left unchanged at 2% of outstanding stock of securities.
Gk – bit – FDI/FPI/FII
Foreign Direct Investment (FDI)as the name suggests is investing directly in another country. A foreign company which is based in some other country like France invests in India either by setting up a wholly owned subsidiary or getting into a joint venture with some company based in India and then conducts its business in India.
Foreign Portfolio Investment (FPI)is similar to FDI in a way that this is also direct investment but investment in only financial assets such as stocks, bonds etc. of a company located in another country. In contrast to FDI, a portfolio investment is an investment made by an investor who is not involved in the management and day-to-day business of a company.
Foreign Institutional Investor (FII)is an investor of group of investors who bring FPIs. Institutional investors include hedge funds, insurance companies, pension funds and mutual funds. They participate in the secondary market of economy. To participate in the market of India, FIIs must register themselves with Securities and Exchange Board of India (SEBI).
·        Prime Minister Narendra Modi Launches India's 1st All-Electric High-Speed Train
Prime Minister Narendra Modi flagged off India's first all-electric high-speed locomotivein Bihar.
The first big Make-in-India project completed by France's Alstom, the train has the country's most powerful engine with 12,000 horsepower and a maximum speed of 120 km per hour.
The average cost of one high-speed locomotive is around Rs25 crore.
First Meeting of the 'NITI Forum for North East' held in Agartala
The focus of development projects in the NER will be based on the concept of "HIRA" (Highways, Inland Waterways, Railways and Airways) as spelled out by the Prime Minister Shri Narendra Modi.
The 'NITI Forum for North East' was constituted in February 2018 with an aim to ensure sustainable economic growth of the North Eastern Region (NER) of the country and periodically review the development status in NER.
The first meeting of the newly constituted 'NITI Forum for North East' was held in Agartala, Tripura.
The meeting, organized by the NITI Aayog, Ministry of DoNER and the North Eastern Council (NEC).
·        CWG 2018: India Win Badminton Team Gold for first time In CWG History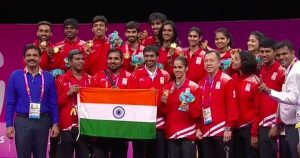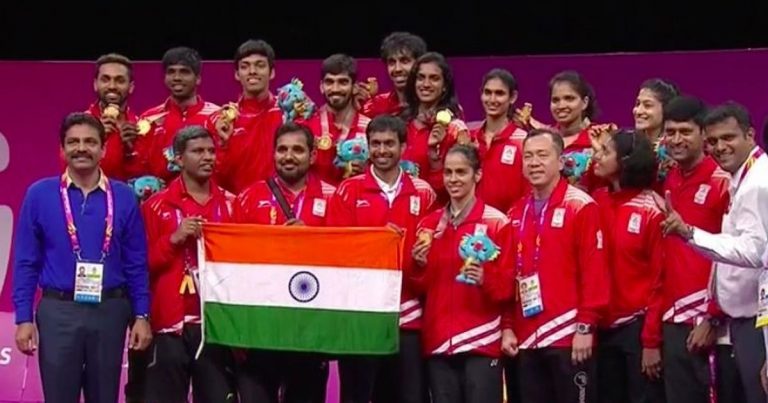 India clinched their first-ever badminton mixed team event gold in Commonwealth Gameshistory after defeating defending champions Malaysia 3-1 in the final at Gold Coast.
India's previous best performance in the mixed team event at CWG was a silver-medal finish in the 2010 edition.
Saina Nehwal and Kidambi Srikanth represented India in singles' matches of the five-member team event
MPPCS  Notes brings Prelims and Mains programs for MPPCS  Prelims and MPPCS  Mains Exam preparation. Various Programs initiated by MPPCS  Notes are as follows:-
For any doubt, Just leave us a Chat or 
Fill us a querry
––